The Qingdao Shiyuan Music Fountain
25 May 2019
The Qingdao Shiyuan Music Fountain is the largest musical fountain in China. Located in the Tianshui Lake in the Baiguoshan Forest Park in Lisong District, the large water dance show is one of the core park landscapes of the entire World Expo. The mystery lies in the hundreds of fountains under the lake. These fountains are installed on a steel structure platform with a length of 120 meters and a width of 90 meters. The platform can be lifted up and down to form a stage for water dance performances. The water dance show is a combination of water and technology. With the accompanying or soothing music, the water column weaves a variety of wonderful patterns, up to 80 meters.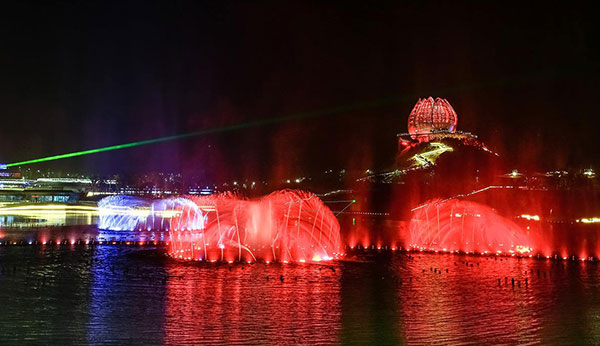 Landscape Introduction
The landscape fountain has 776 water jet heads, and there are 20 fire-breathing devices and more than 3,000 lighting equipment. In the music, there are world famous songs including the Strauss family and Tchaikovsky's works, and some traditional classical songs such as Liang Zhu and Huang He, which are rich in Chinese national style, are selected. In order to fuse different styles of music together, the designer will comprehensively analyze the selected water dance music, carefully arrange various play versions according to different performance periods, and then dance choreographers, music dances and pumps, by the dancers. The electromechanical device system of frequency converter, lighting and gas explosion constructs an organic logic chain, which achieves a natural performance. The virtual and staggered step-by-step scenery of the Tianshui Lake is equipped with a star air film lattice of 120 meters long and 90 meters wide, which can form a plurality of rhythmic motion arcs. Under the light mapping, natural images such as string smashing, dancing waves, blooming petals, and volcanic eruptions are formed on the water surface. In conjunction with the performance equipment such as laser and water curtain projection in the outer field area, the performance tension of the fountain water dance show is expanded.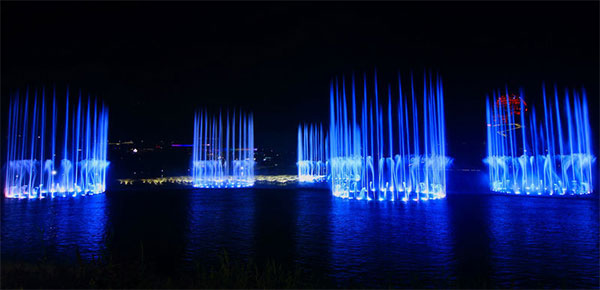 Rank In The Field
According to Hua Mingjiu, deputy secretary-general of the China Building Metal Structure Association, the large-scale use of water film in the Water Dance Show of Qingdao World Expo, the matrix discovery method that runs through the entire performance process for a long time, is the first in China. He said that he has seen fountains in many cities at home and abroad. The World Garden Water Dance Show is comparable to the fountains in Las Vegas and Dubai, United Arab Emirates in terms of expressiveness, water effects and performances.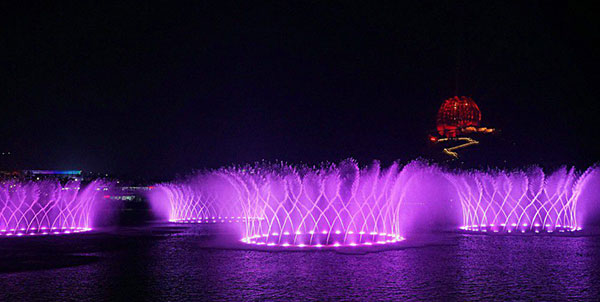 Tourists Watching
2014 time: Monday to Friday: 10:00-10:15, 12:00-12:15, 14:00-14:15, 16:00-16:15
Weekends and legal holidays: 10:00-10:15, 11:00-11:15, 12:00-12:15, 13:00-13:15, 14:00-14:15, 15:00-15 :15, 16:00—16:15, 17:00—17:15. The night starts on June 20th and the night time is every Friday and Saturday. The nighttime musical fountains show time is 19:30 and 20:30, about 20 minutes at a time.
2015 time: Monday to Friday: 11:30-11:40, 13:30-13:40.
Weekends: 11:30-11:40, 12:30-12:40, 13:30-13:40. The night starts on July 10th and the night time is from Friday to Sunday. The night music fountain is played at 19:30 and 20:30, about 10 minutes at a time.
Keywords: musical fountain
Originally published 25 May 2019, updated 25 May 2019.