Singapore Wealth Musical Fountain
04 Jun 2019
The Fountain of Wealth is one of Singapore's landmark buildings. It is located in the financial center and is only open at certain times. There are 12 Zodiac patterns on the ground around the musical fountain. It is said that three rounds around the fountain will bring wealth.
Position
Located in the heart of Singapore's famous business district, Suntec City.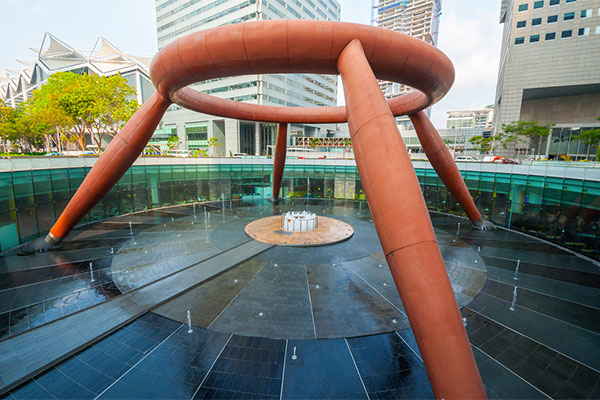 The Main Structure
The Wealth Fountain is made up of four sloping bronze pillars. The top of the column is a 66-meter-diameter bronze ring with a vertical height of 13.8 meters. The entire musical fountain covers an area of ​​1,683.07 square meters, and the water column can be sprayed up to 30 meters.
Design Inspiration
The design of the Fountain of Wealth is based on the thoughts of Buddhism and Hinduism. The mandala of the giant ring symbolizes the completeness and perfection of the mandala. It is the source of endless power and also conveys the desire of the builders to yearn for friendship and integration. According to the theory of Feng Shui, Xinda City has an excellent orientation and is conducive to gathering wealth. The flowing spring water of the Fountain of Wealth can emit strong energy, which will make people feel both physically and mentally.
As an important symbol of Singapore, Suntec's "Spring of Wealth" is also the core building of the area, surrounded by buildings and eye-catching. There are five buildings around the Fortune Fountain, each marked with a number of 1 - 5 in English, representing the five fingers of the human hand. The position is also arranged according to the palm shape, meaning the meaning of holding the wealth in the palm of the hand.
In 1998, the Fountain of Wealth was the largest fountain in the Guinness Book of World Records.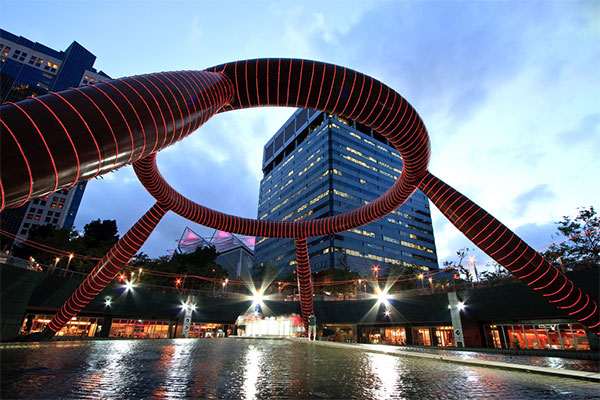 Opening Hours
Every day from 09:00 to 12:00, from 14:00 to 18:00, from 19:00 to 19:45, and from 21:30 to 22:00.
Keywords: musical fountain
Originally published 04 Jun 2019, updated 04 Jun 2019.